The trend and widespread acceptance of healthcare app development has revolutionized the sector and the overall ecosystem. Since the world has already entered the digital age with a growing dependency on smart devices and the internet, the healthcare sector is not left behind.
Mobile apps are a blessing to the healthcare industry that help improve patient care, reduce doctor's load, and enrich care. As per the prediction, the mobile health industry is expected to reach $189 billion by the end of 2025.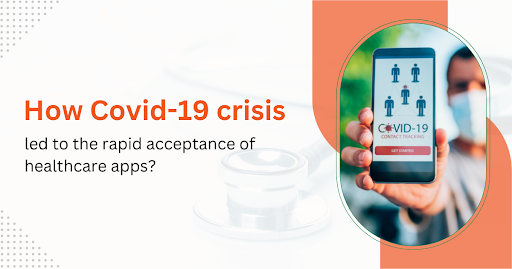 How Covid-19 crisis led to the rapid acceptance of healthcare apps?
The world has witnessed some spectacular innovations and changes only after some specific incidents and situations. Concerning the rapid rise of healthcare app development in the patient care sector, the Covid-19 crisis played a crucial role. It is only during the crises that the world came to standstill, there was an urge to rely on digital service offerings to meet crucial requirements. The crises led to the rapid growth of eCommerce apps, logistics platforms, & healthcare mobile apps for the benefit of people.
Specifically, in the medical sector, there has been a rapid development of healthcare mobile apps of different types. And allow users to book online doctor's appointment, order medicines online, consult a doctor through video call, track daily diet pattern, and much more.
Not just for the patients and customers, healthcare sector-related enterprise app development is helping doctors and professionals to streamline their work process. The increasing proliferation of medical apps allows doctors to know more about patients to track their vitals digitally, provide digital consultation, upload prescriptions online, etc.
How do healthcare apps help patients?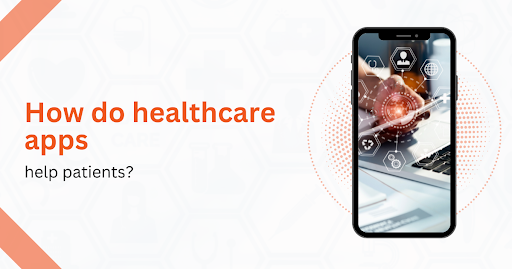 Not one but several types of patient-specific healthcare mobile apps are available that we will categorize the same later are improving overall patient care. Once again due to the unexpected pandemic situation, the increasing digitization led to the widespread acceptance of health-related mobile apps.
Several platforms help patients to diagnose their condition, find a qualified set of doctors, order medicines from online pharmacies, consult with an expert, etc. Thus, the development of healthcare apps plays an integral role in bridging the gap between patients and urgent medical attention from experts.
Few of the features factors of healthcare apps for patients
Patients can search for an expert doctor via a mobile app to book an appointment. It is flexible on the part of patients to look for a particular medical expert based on specialization, experience, location, ratings, knowledge, fees, and keeping other considerations in mind.

Order medicines and a wide range of medical equipment online by accessing a reliable healthcare-related eCommerce app. Instead of visiting pharmacies late at night, make the best out of express delivery of medicines to enhance your health.

Upload and check your medical report from an expert. Several healthcare apps allow patients to upload their treatment history including information, reports, and other records. It allows the doctors to best understand your condition before treating it.

Patients have the flexibility to consult with doctors online via audio or video call mode to best treat their condition in an instant.

An additional benefit of booking full body health check-ups and finalizing minor to major surgery appointments online as per the doctor's availability.
Also Read: What are the Pros and Cons of mobile apps in future?
How do healthcare apps help doctors & professionals?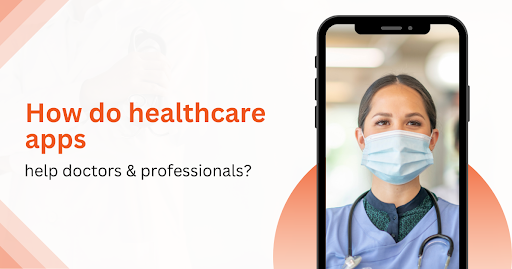 Undoubtedly, healthcare apps have also become part and parcel of the hospital management system to an optimum extent. Not just for patients' benefits and to improve their health, medical apps are reducing the operational burden of doctors, admin professionals, and other staff members.
An integrated healthcare-related enterprise app can provide emergency medical alerts, maintain hospital and patients record, manage doctors' schedules, upload clinical documents, monitor treatment, and provide other functionalities.
Doctors can best rely on healthcare mobile apps to know about any medical emergency after receiving an alert message and taking care of the situation.
A simple way to look at booked appointments both online and offline with a particular number of patients. Also, provide access to previous patients' medical history to provide a fast and seamless treatment facility.
Speed up the medical documentation process by simply referring to the online reports and creating specific papers well on time.
What are the different types of healthcare mobile apps?
As we mentioned earlier, there are various types of healthcare mobile apps that are readily available and some of which you can develop. Here, we have the categorization of healthcare mobile apps specifically developed for patients, doctors, and medical institutions.
Here's the list of mobile apps.
Healthcare apps for patients: Fitness & wellness app, self-diagnosis app, mental health mobile app, health tracking app, diet tracking app, meal reminder app, etc.
Healthcare apps for doctors & professionals: Remote patient monitoring app, hospital management mobile app, appointment management application, telemedicine app, etc.
Healthcare apps for medical institutions: Billing app, scheduling & appointment application, Clinical assistance app, inventory management, pharmacy app, etc.
How medical mobile apps are changing the sector?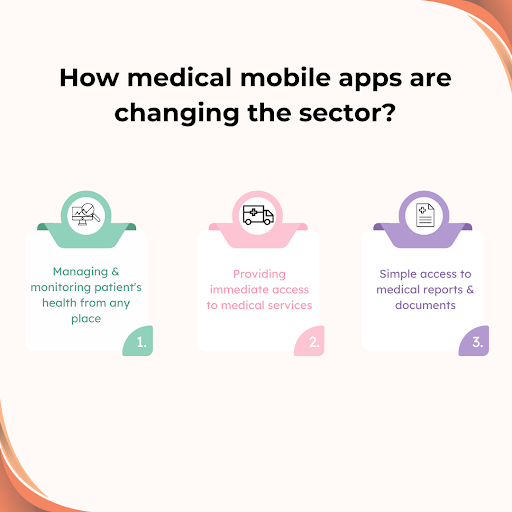 Mobile apps have definitely changed the way we think, shop, book services, make an appointment, find locations, and more. Specifically related to the healthcare sector, the rapid proliferation of mobile apps has offered various benefits to the world at large.
Managing & monitoring patient's health from any place:
Precisely, wearable apps and fitness bands connected via mobile apps have helped people to monitor their health vitals in real-time. Such technology allows people to capture information related to their walking, exercising, sleeping, eating, and other sets of activities. Ultimately, it allows people to best monitor their health at any sort of place and reach a medical expert online whenever required.
Providing immediate access to medical services: 
In a way, healthcare apps have more or less replaced the requirement of physically visiting a hospital or a clinic, unless there is a serious emergency. The increasing digitization in the healthcare industry has led to the growth of apps that allow people to find doctors, book a session, consult digitally, and improve their health. Moreover, several apps are available that provide you with round-the-clock medical assistance from experts to stay at peace. 
Also Read: Key steps to Become a Mobile app Developer in 2022
Simple access to medical reports & documents: 
Not just for patients, healthcare apps are catering to the daily requirements of doctors, surgeons, and physicians. Specifically related to accessing patients' medical records online without depending on any physical assistance. It allows medical professionals to take the right diagnosis and treatment decisions with no further delay. 
Concluding Thoughts
The healthcare sector is continuously evolving, thanks to the advancement in technology and the widespread acceptance of mobile apps. Healthcare app development is not just a recent trend but a necessity to improve patient care and reduce doctors' operational burden to a maximum extent.